Pre-NAMM "SYNTH-A-THON" Event - Featuring DEEPMIND 12
Dear all,
For those of you in the Los Angeles area, or anyone who plans on attending the 2017 NAMM show, we're throwing a special pre-NAMM show event at our MUSIC Studios LA location in Canoga Park, CA. There will be live presentations, performance entertainment, and DEEPMIND 12 Synthesizers on hand to play and explore.
Please see the copy below for more details:
Calling all Synth Enthusiasts - Here's your chance to build your own exclusive patch and experience the fusion of augmented reality and audio synthesis for the first time in the US!
The BEHRINGER DEEPMIND 12 is making its feature debut in the US and we want to see what YOU can do with it. We're looking for synth geniuses like yourself to come to MUSIC Studios LA and create your own exclusive patch and share it with the world. You'll be given fifteen minutes to create your own patch using the DEEPMIND 12. By creating a patch, you will be entered to win one for yourself. Winner will be chosen randomly at the end of the day. Winner does not have to be present to win.
Register now
to participate in this special event.
January 17th, 2017 11-4PM
8431 Canoga Ave
Canoga Park, CA 91304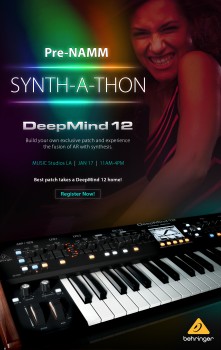 Michael Lapke