MOXAir for Mac (MIDI to OSC X-Air Bridge)
MIDI+OSC+X-Air = MOXAir
MOXAir
for Mac is up and running translating incoming MIDI to OSC and passing them on to your X-Air. When it gets data back from the X-Air, it reverse maps those commands back to MIDI and updates the controller.
This is the configuration for my X-Touch Mini: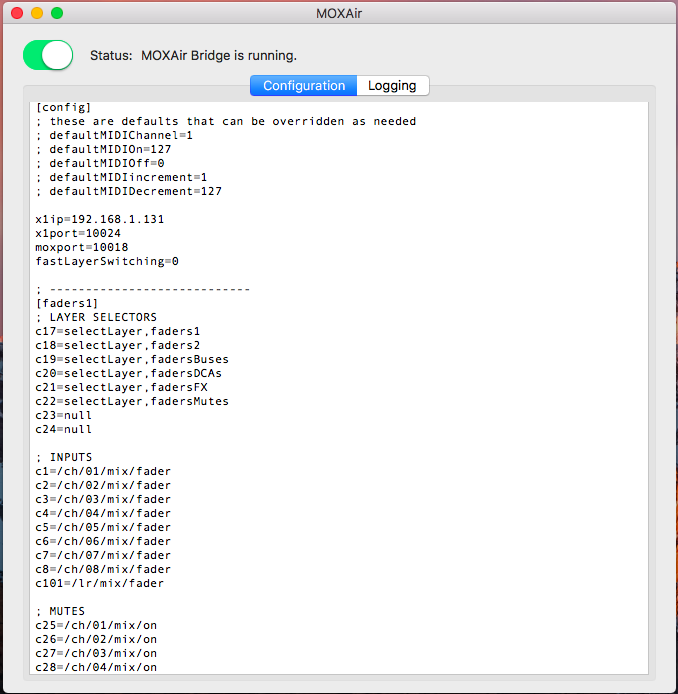 It's super simple. You give it an INI-style configuration and start the bridge. It does the rest. I'm trying to make MOXAir dumb enough to stay out of the way. Everything should be done in the config file.
You need to move the AUX to a different encoder? Easy:
[LIST=1]
Change the config file.

Stop the bridge.

Start the bridge.


So far I've only implemented layers (unlimited layers), channel selects, faders, and mutes, because I was on a time crunch and needed it running for a show earlier this evening.

Like layers, channel selects are internal to MOXAir, but they allow you to do EQ and everything channel specific. First, you set up a bank of buttons to do channel selection:

c88=selectChannel,01
c89=selectChannel,02
c90=selectChannel,03
etc....

Then maybe you set up encoders to control EQ for the selected channel:
c33=/ch//eq/1/f
c34=/ch//eq/1/g
c35=/ch//eq/1/q
c33=/ch//eq/2/f
c34=/ch//eq/3/g
c35=/ch//eq/4/q
etc...

Many thanks to all the hard work of others who have made it easier, especially Dave Meadowcroft, Patrick-Gilles Maillot, Ken Mitchell, Paul Vannatto, plus many others I'm sure.

If there's interest, I'll post an ALPHA when I iron a few more things out.